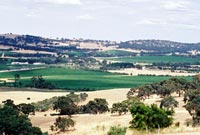 Although production is limited, the 2005 MAX V is now
available to all wine
enthusiasts and advocates of small batch winemaking.
Please register your interest
by contacting info@rocwines.com.au
or visit our ORDERING PAGE
for further details.

Member's Login Page
Proceed to members section – with Behind the scenes, winemakers notes, barrel sample analysis, interviews
and a comprehensive photo gallery.

WHY THE CLARE VALLEY?
Two hours north of Adelaide, the Clare Valley (33º 50'S and 138º 37'E), in South Australian winemaking history dates back to when English settler John Horrocks first planted vines at Hope Farm in 1840. His vision was followed by plantings at Sevenhill in 1852 and Spring Vale in 1853. The Clare Valley remains one of Australia's oldest and most famous wine regions as well as one of the most scenic.
Although the Clare Valley is set in the middle of the hot, dry mid north wheat belt of South Australia, with hot summers and little ground water it manages to produce wines that would appear to come from a considerably cooler and wetter climate. Said to rival the great Rieslings of Mosel in Germany and Alsace, the region also lends itself to some of Australia's top big, firm peppery shiraz's and elegant minty cabernets which display enormous structure and depth.
Producing only 3% of Australia's total grape crush, the Clare Valley wins 20% of the wine awards available to Australian vineyards every year, an exceptional statistic considering its size. The Clare Valley's peculiar characteristic in producing cool climate wines from what is seemingly a warm climate region is generally attributed to cool afternoon breezes that blow through the valleys in the warmer months courtesy of the St. Vincent gulf stream. The region contains a series of valleys with altitudes ranging from 300m to over 500m above sea level.
CLARE VALLEY CLIMATE
Vineyards are characterised by many micro climates with cool to cold nights and warm to hot summer days. Rainfall is predominantly in winter to spring (June - September) with an annual average of around 630 millimetres. Generally dry summers make some irrigation desirable and vines have traditionally been grown using dryland farming techniques. The low humidity also ensures minimal fungal disease. Soil structure varies throughout the valleys from red clays and sandy loams to the red loams over limestone.
A combination of the Clare Valley's scenic beauty and long European background as well as its micro climates and unique terroir, provides the perfect home for the MAX V Bordeaux style blend. Sitting along side well renowned vineyards such as Jim Barry, Grosset, Pikes, Eldredge and Leasingham, as well as powerhouse cabernet producer Wendouree, MAX V will create history by becoming the first Bordeaux style blend using the 5 noble varieties chosen from the finest vineyards in the Clare Valley.
CLARE VALLEY STATISTICS
| | | |
| --- | --- | --- |
| Heat degree days | | 1770 |
| Sunshine hours per day | | 9.3 |
| Annual rainfall | | 630mm |
| Growing season rainfall | | 200mm |
| Mean January temperature | | 21.9ºC / 71.5ºF |
| Harvest | | Early March – late April |